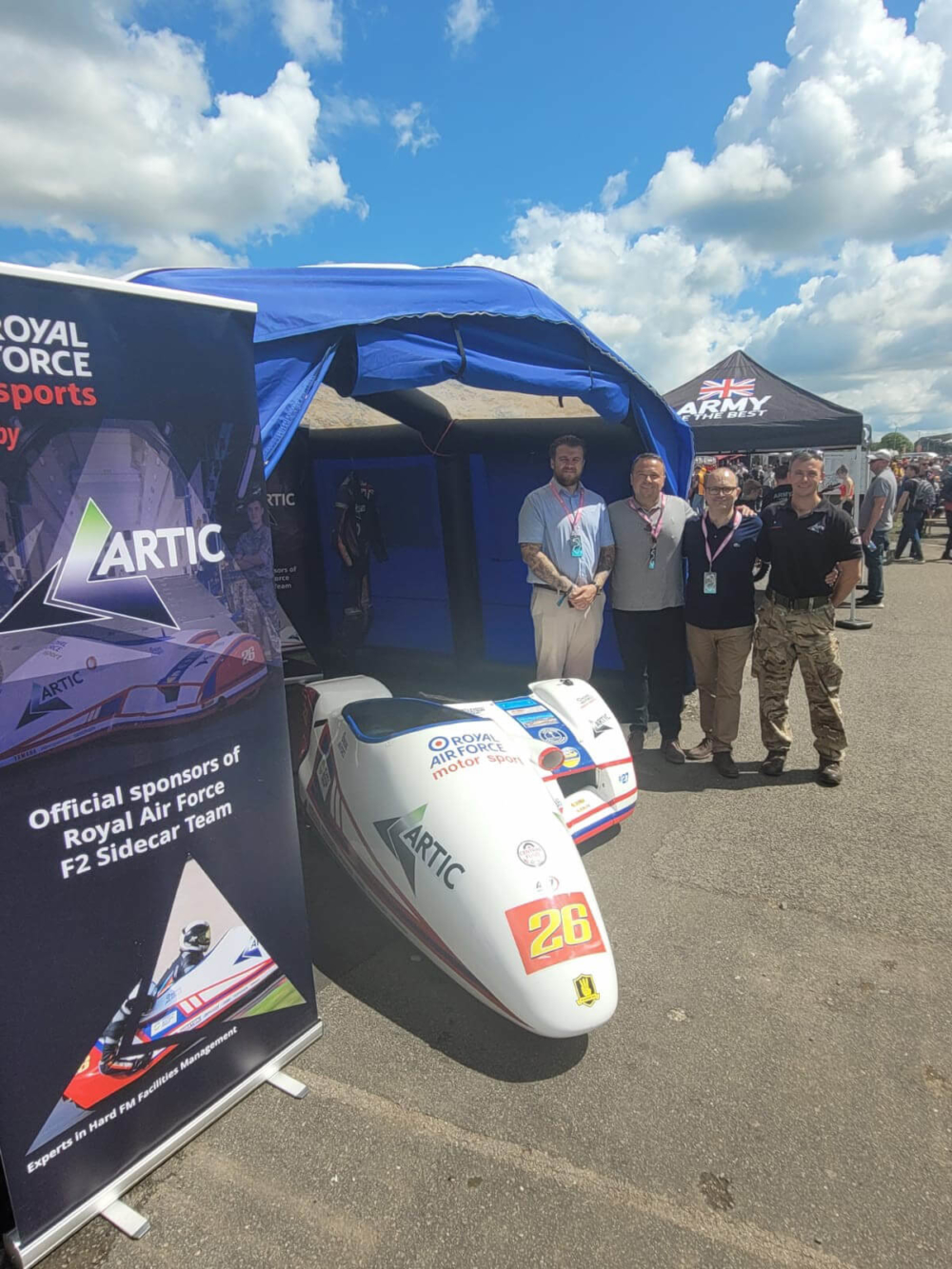 Directors Paul Lucas and Colin Trowell lead an Artic group on a visit to the British F1 Grand Prix at Silverstone last week. The race was one of the most dramatic seen at Silverstone with protestors on track, major racing incidents and a thrilling race which eventually saw Lewis Hamilton gain a well deserved podium finish.
The Artic party were also able to visit the RAF Motorsports village where the F2 sidecar team powered by Artic were exhibiting the bike and welcoming all visitors to talk about sidecar racing and the Artic support which sees the team leading the British championship at the halfway stage. Driver, Rob Atkinson, was on hand to talk with our guests about the sidecar and what goes into racing this high adrenaline machine around the racetracks of Britain.
Through Artic's sponsorship of the team we have also partnered with the RAF STEM initiative to grow awareness of engineering careers for school and college students both in the RAF itself and in the Facilities Management industry. This joint initiative is aimed at informing young people in our local communities about engineering as a career and offering opportunities to them through apprenticeships and work training schemes.
BRITISH F2 SIDECAR CHAMPIONSHIP
The RAF team of Rob Atkinson and Mark Middleton are based at Brize Norton airbase in Oxfordshire, famous the world over, and used as a set in the latest Bond film. Away from the excitement of Hollywood, the team get their adrenaline fix on the racetracks of the UK through a six-round, 13 race championship taking in Brands Hatch and Donnington Park before heading to Wales and Scotland later in the season. Further supporting race meetings are planned on the Isle of Man and Brands Hatch (again) so our staff and customers will have ample opportunity to see the team up close and in action.
Our sponsorship has enabled the team to significantly enhance the bike for the new season with a new engine, new ignition system and major chassis alterations. We are looking forward to joining and supporting the team in their quest to become British champions.
Share This Story!
If you're looking to partner with Artic Building, then please complete the Working With Artic form here.
Do you have an upcoming project or tender? Then please complete the form below.