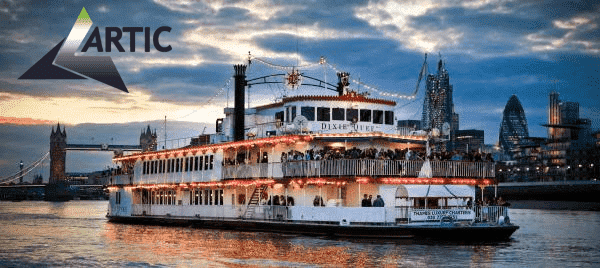 When it comes to the facilities industry, the Annual Summer River Boat Party on the River Thames is one of the best attended events on the calendar. This year, Artic are proud to be throwing their support behind it to make it one of the most unforgettable events of its kind, with great hospitality and entertainment all round.
We're looking forward to welcoming you aboard The Dixie Queen, a bonafide replica of a 19th Century paddle steamer and London's biggest entertainment, conference and party boat.
You and your guests will experience the sights and sounds of London and experience all of the landmarks the banks of the Thames has to offer, from the London Eye and the Tower of London to Canary Wharf and the historic district of Greenwich, culminating in a breath-taking finale at the raising of Tower Bridge as The Dixie Queen passes through to dazzling lights and rapturous applause.
All ticket holders will be entitled to a complimentary drink and a delicious hot and cold buffet to go with the live entertainment. Party bookings are welcome and table packages are available which include a complimentary bottle of wine for every 2 people in your group.
We'll be there and hope to see many of you there too for what promises to be an unforgettable evening. Come along, enjoy the evening, shake a few hands and network at your leisure.
Tickets for this event always sell fast so don't delay; call 07455 302694 now and we'll see you aboard The Dixie Queen on the 14th July.
Share This Story!
If you're looking to partner with Artic Building, then please complete the Working With Artic form here.
Do you have an upcoming project or tender? Then please complete the form below.