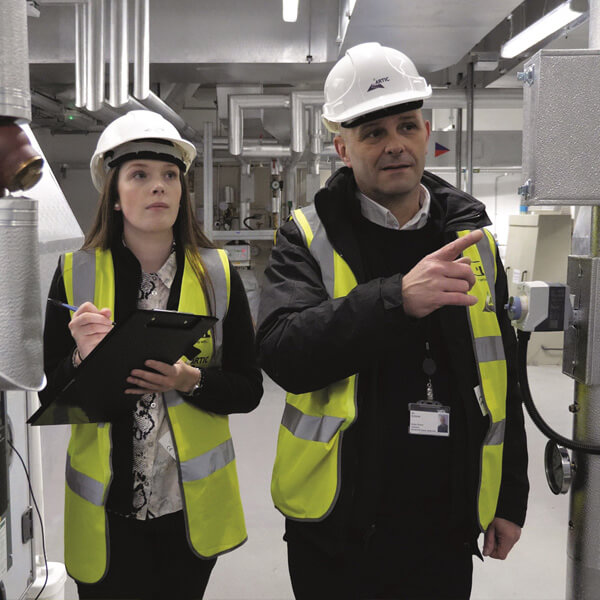 Building Information Modelling (BIM) has been around for a long time, and in recent years it's made its way into the mainstream building services industry – but what is BIM? Why has it become so important to client and tendering practices within the sector, and how has it helped to advance digital engineering?
NBS's National 2020 BIM Report confirmed BIM adoption has grown substantially. In 2011, 43% of respondents had not heard of BIM. Today, awareness is almost universal, with 73% using BIM.
What is Business Information Modelling?
In a nutshell, Business Information Modelling has changed the way buildings and wider infrastructure are planned and developed. From design through to execution and maintenance, advanced BIM solutions take raw data and turn it into valuable, actionable information that can help deliver value during every stage of the construction process. With advanced planning, BIM can predict potential outcomes of various processes during development. This foresight makes construction safer and more reliable.
Asset surveyors are increasingly realising BIM's potential to create efficiencies throughout the project life cycle. It not only allows to offer innovative solutions to small- and large-scale problems, but also supports stakeholders in creating an efficient method of working that is capable of creating and adding value.
In 2011 the UK Government set out four construction strategy targets for 2025. BIM has played an integral part in meeting those targets. The targets were:
33% reduction in construction costs and lifespan maintenance
50% reduction in overall time, from inception to completion
50% reduction in greenhouse gas emissions in the built environment
50% reduction in trade gap between exports and imports for materials
"It has been estimated the advancements over the last 2 to 4 months have taken a 5-year leap forward throughout the global COVID-19 pandemic where the industry has had to adjust to a new working environment."
How does Business Information Modelling work?
Business Information Modelling bridges the gap between traditional 2-dimensional drawing and 3-dimensional modelling. Of course, 3D modelling has been around for several years and isn't new to CAD, but BIM is different because it uses data sets to create a virtual mock-up of an entire project, including elevation drawings and other complex tasks.
What really sets BIM apart from other methods, is that any changes that are made to these drawings can be easily integrated back into the 3D model without the need for further editing, saving a lot of time and resource. As well as saving time, this enables potential problems with designs to be identified quickly and reduces the margin for error.
What are the benefits of Business Information Modelling over traditional drawings?
Simply put, BIM allows for more information to be held within a virtual model than any drawing or CAD system could offer. For example, a simple CAD drawing may hold basic measurements for a wall, whereas BIM could include information such as fire rating, energy efficiency rating and more. This consolidation of information is invaluable to the construction process and helps to streamline entire developments. It also helps to paint a fuller and more accurate picture for potential investors and stakeholders.
Consider BIM a living, breathing virtual mock-up of a project. Changing just one piece of information and then feeding it back into the model will identify its impact on a much wider scale, leading to better decision making with less manpower. This leads to better results and reduced costs.
BIM is becoming integral to CAFM systems to ensure asset control and updates from PPM are controlled and handled smoothly. It also helps to empower both clients and contractors, giving them a 360-degree view of functionality and full site awareness.
What is the definition of BIM?
As more technologies become available, the understanding of what BIM can offer will change. It is essential to understand that there is no one definition of BIM: it means different things to different people in various roles and to the various organisations that they serve. In 2011 when the Government proposed the construction strategy, it set out different levels of BIM:
Level 1 (2011)
When BIM Level 1 has been reached it is implied that the data has assumed a form of structure. The CAD is now either 3D or 2D with some commonality in the data environment. Also, the CAD standards are governed under British Standards (BS 1192:2007).
Level 2 (2016)
Level 2 BIM is prescribed by the UK Government for public sector projects. Organisations in the construction industry must demonstrate compliance to secure funding.
At Level 2, collaboration has been introduced between teams and the process of BIM is being followed. There is commonality in the data structure which enables a federated BIM model to be produced.
Level 3 (20??)
The scope of Level 3 has not been completely defined. Once the construction industry has achieved compliance to BIM Level 2, the Government will begin to define and set targets for the achievement of BIM Level 3.
Level 3 proposes a complete and total collaboration in the planning, construction, and operational life cycle of any built asset. The data is shared, collected, and stored using a single source of data.
Summary
Unfortunately, the construction sector is notoriously slow to innovate, however, like all other industries it was swift to respond to the COVID-19 pandemic. Working practices and methods of communication were forced to be modified. Organisations should continue to move forward and press for change to boost their productivity through AI and data analytics technologies. BIM potential has previously centred around technology and the sharing of information (as defined by levels 1, 2 and 3) but now, the shift is towards information 'management' as opposed to 'modelling', and towards linking other Industry technologies.
Consequently, with the introduction of BS EN ISO 19650, and as technology develops, the industry's perception of BIM will become blurred, and the stages/levels of BIM will become less obvious.
If you're looking to partner with Artic Building, then please complete the Working With Artic form here.
Do you have an upcoming project or tender? Then please complete the form below.