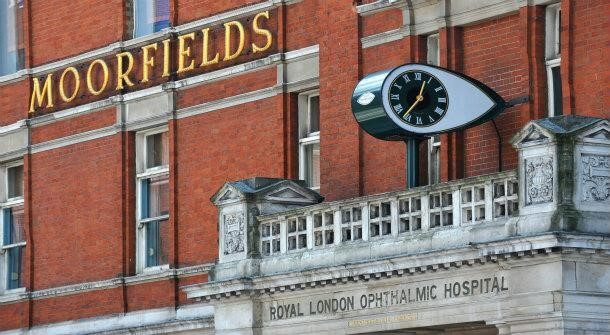 Moorfields Eye Hospital – AC Maintenance
Project Start Date: 2019
Project Completed: Ongoing
Project Value: £30,000
Moorfields Eye Hospital is a specialist NHS eye hospital in London, it is the oldest and largest centre for ophthalmic treatment, teaching and research in Europe. In March 2019 Artic were invited by Moorfields Eye Hospital NHS Foundation Trust, to tender for the Air Conditioning Maintenance across their varied sites. Our proposal comprised of frequent service visits to all assets across 7 sites as defined by the requirements of SFG20. After a successful tender process, Artic were awarded a 12-month contract for the Trust.
The Service
Our responsibility includes the provision of both planned and reactive maintenance services to over 500 assets including Split System, Condenser and VAM Units across all of Moorfield's 7 sites. All Air Conditioning assets and associated plant are serviced twice a year to SFG20 standards, totalling 486 hours over the year. Work is scheduled and planned using our computer aided facilities management software system, Tesseract. With regular monthly management reports produced that show our performance against an agreed schedule of KPI's. The contract is managed and serviced by a dedicated and exclusive team consisting of a Contract Manager, AC engineer and mate who are supported by a dedicated administrator based in the Dartford Head Office. In addition to the PPM we undertake all the reactive calls, with varying SLA time constraints based upon criticality of equipment. Recent Projects for the hospital have included, Clinical area fit out, Electrical Breaker replacement, AC electrical supply upgrade, electrical installations, Old Medical Library conversion, Electrical surveys and Air curtain installation, totalling to £135,883.83
At Artic, we understand the importance of maintaining a safe and compliant environment in healthcare facilities. That's why we offer expert facilities management services designed to meet the highest standards of HTM compliance. Our goal is to ensure the safety, comfort and wellbeing to patients, staff and visitors by providing effective solutions that meet the requirements of HTM and legislative guidelines. So if you're looking for a trusted partner to help you manage your healthcare facility, contact us today to learn more about how we can help.
Share This Story!
If you're looking to partner with Artic Building, then please complete the Working With Artic form here.
Do you have an upcoming project or tender? Then please complete the form below.