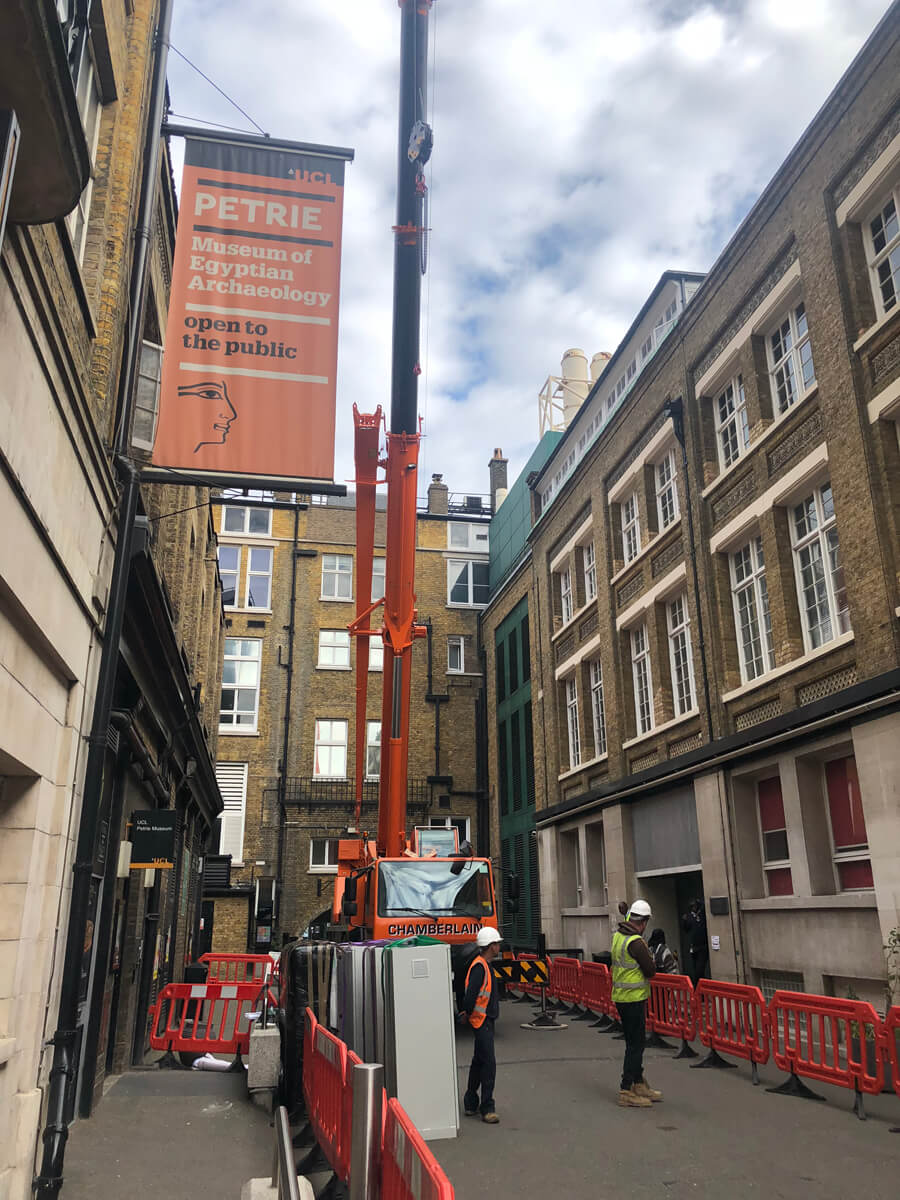 Chiller Installation – University College London, Petrie Museum
Artic Building Services have 20+ years experience of carrying out major plant replacement projects within various sensitive buildings including: listed buildings, museums, University's, Hospitals and the banking sector. Whilst all vary with specific requirements they all require similar level in planning to ensure disruptions are kept to a minimum and business is as usual.
A prime example of this would be for a project Artic recently completed. This was for a major plant replacement for the Petrie Museum of Egyptian Archaeology at the University of London. The Petrie Museum at UCL houses an estimated 80,000 objects with some of them dating back as far as 1300 BC. These include the largest architectural drawing, and the earliest example of metal from Egypt, and the oldest wills on papyrus paper, making it one of the greatest collections of Egyptian and Sudanese archaeology in the world. The age and material of many of the artefacts mean they are some of the most physically and chemically vulnerable collections. To ensure a stable museum environment where these items can be stored and used for teaching, research and public engagement purposes the ventilation system was replaced.
Following extensive surveys of the existing ventilation installation, together with meetings and discussions with the museum management and specialist manufacturers, it was decided that to achieve a purpose designed system, the new bespoke Close Control ventilation plant that allows the museum to operate within a controlled environment (i.e. keeping the temperature at 20°C +/-1ºC. and Humidity at 43%RH +/- 5%RH).
The Services
The refurbishment works aimed to:
Enable the Petrie museum is compliant with its conservation requirements, its accreditation and designation as a collection of world significance.
Enable to continue to be one of the world's most important ones in the world, in its category.
Improve staff working conditions.
Improve the experience of researchers, student, and visitors.
The old and inefficient chillers, which were not fit for purpose, were replaced with two new close control air handing unit systems (which include a heat recovery thermal wheel to reutilize energy / heat that would be otherwise wasted) with new supply fans, chillers, pumps, chilled water (CHW) system, and systems for chilling water and heating water have also been installed which have been specified in accordance with the museum needs.
The actions below will generate some energy savings:
Use inverter controlled chillers.
Add inverted driver fan motors to the design.
Add heat recovery thermal wheel to the design. This is to reutilise energy / heat that would be wasted
Replace a gas fired heating coil by a district heating fed one.
Cleaning of the ductwork, which will improve air circulation and reduce fan motor energy usage. The work started in December 2017, and was completed in December 2018.
At Artic we offer expert energy efficient installations and project management. Our team ensures clients receive quality results that meet their needs and budget. With a proven track record of delivering complex projects on time and within budget, we're a trusted choice for businesses. Contact us today to find out how we can help you achieve your goals.
Share This Story!
If you're looking to partner with Artic Building, then please complete the Working With Artic form here.
Do you have an upcoming project or tender? Then please complete the form below.