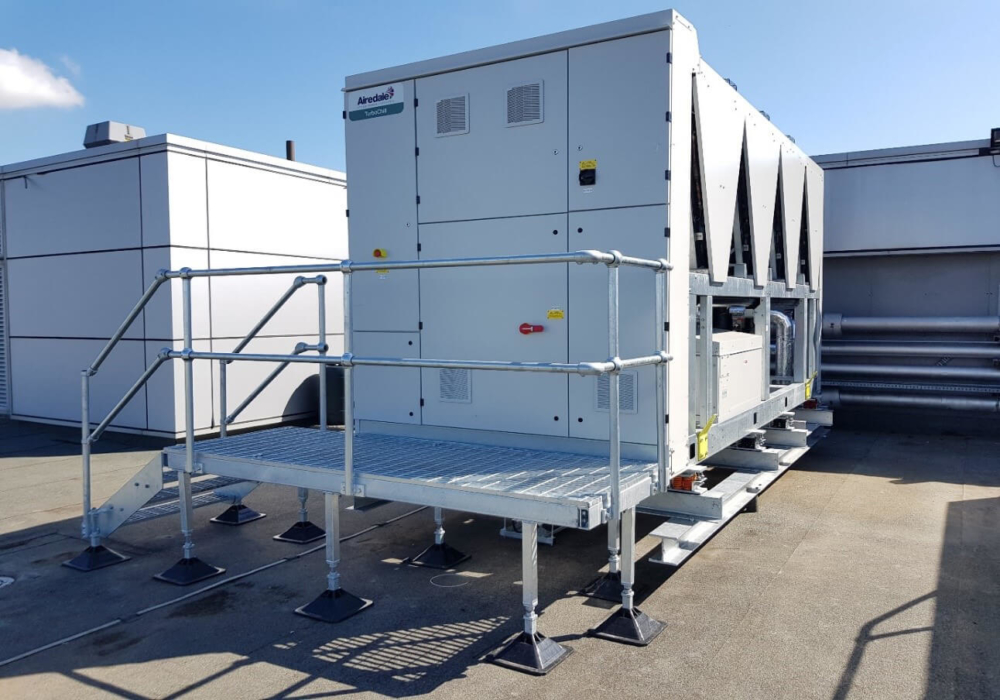 As your plant ages, complications inevitably arise as malfunctions occur. Broken machinery and outdated systems can cause disruptions to your business, potentially creating unwanted equipment downtime and high maintenance costs. Older plant will generally run less efficiently than when it was new placing increasing energy costs on your business.  Facilities Managers will want to resolve any issues promptly to reduce the impact on their business. It is a common problem, particularly as equipment ages, that forces Facilities Managers to decide whether to fix the issue in the plant or replace it entirely.
How Artic Resolve Plant Issues
We have been working in partnership with Facilities Managers around London and the Home Counties for over 20 years, handling a diverse range of M&E plant. Our experienced in-house maintenance engineers can quickly diagnose plant problems,  focus on fixing issues that occur, and ensure that your plant is up and running again in as little time as possible. This team aims to fix the issue without resorting to major component, or indeed, complete system, replacement where possible.
There are, however, occasions when fixing items of plant is not feasible or economically viable, creating the need to replace the system. Our Projects team expertly handles the turnkey replacement of major M&E equipment and plant. Our team has successfully replaced a range of plant systems including air conditioning units, chillers, air handling units and boilers for a variety of clients. Our Projects team has undertaken large projects where a full plant replacement is required, along with services and peripheral items to realise a completely new system installation. Through careful planning, our team manages the replacement of all plant systems including mechanical and electrical services.
Fixing The Issue
When measuring the benefits of fixing and replacing an issue, it is important to consider the age of the equipment. If the equipment is new, it may make more sense to fix it and continue using the equipment until it is superseded by newer alternatives with enhanced performance. The older the item of plant is, the more likely the full replacement becomes the most economically advantageous option.
The Advantages of Fixing the Issue:
Minimal planning is needed. Downtime is minimised, hence optimising energy costs.
Fixing an issue usually takes less time than replacing it.
It is often cheaper than a replacement.
Fixing an issue is usually less disruptive to the business than replacing it.
The Disadvantages of Fixing the Issue:
You do not benefit from newer versions of the equipment that enhance performance efficiency.
By avoiding replacement, other issues may occur or re-occur in the future.
Old equipment can cause more injuries.
Your company's profits will suffer as unexpected maintenance costs are not budgeted for.
Your plant's performance will not significantly improve.
You will not significantly reduce your energy consumption.
Why Artic Recommend Replacement
When circumstances determine it is the correct option, and to maximise your efficiencies and save money in the long-run, we will recommend replacing your plant with modern systems. A full plant replacement involving the installation of the latest high standard equipment will significantly enhance your systems performance and provide lasting benefits over remedial repairs.
You should replace your old systems with digitally-enabled alternatives that utilise smart sensors to monitor and optimise performance. For instance, smart HVAC systems determine how much air is required in different sections of your property, drastically reducing the overall energy consumption of the system. Fitting your plant with smart technology will result in enhanced energy efficiency, lower maintenance costs, and improved plant performance.
What Replacing Your Plant Will Do For Your Business:
Significantly enhance your building's performance.
Reduce your maintenance costs.
Reduce your building's operational costs.
Reduce your environmental footprint by cutting down your energy consumption.
Enhance occupancy comfort in the workplace.
New equipment provides greater safety to staff.
The replacement of plant will initially require a larger investment than fixing any issues and may also take longer. However, once the systems have been replaced, your business is safeguarded for the future with modern technology designed for longevity and efficient operation. In the long run, the total cost savings created by smart technology and the reduced maintenance costs associated with your new plant will save your company money.
Why Partner With Artic?
When commissioning a large-scale project like a plant replacement, you want assurance that it will be professionally managed and expertly installed, with minimal disruption to your business. Our Projects team will manage the replacement of your plant, based upon your requirements, budget, and timelines to ensure your new plant is exactly what you need. Our projects team has full cradle to grave capacity including scope and project design, installation scheduling and management of the entire project with due regard taken for RAMS, Health and Safety and any legislative regulatory requirements.
Olympus KeyMed contacted us when experiencing issues with one of its aging chillers. Our team assessed the chiller and found that it had a faulty compressor and one circuit required a leak repair. After gathering budgetary costs for the different options open to them, Olympus KeyMed decided that fixing it would not be economically feasible and tasked Artic with replacing the 18-year-old chiller with a new Airedale TurboChill chiller. Our team erected steelwork on the roof and connected the new chiller to the existing plant services with new pipework, insulation, controls, and power cables. Olympus KeyMed now has a modern high-efficiency Turbocor chiller with significantly improved energy consumption, leading to cost savings and a lower carbon footprint.
Artic has an experienced team of engineers supporting our standing as an approved installer of most major equipment manufacturers, such as Daikin, Airedale, Swegon, York, and Trane. Over the last 22 years our Projects Department have developed an enviable reputation for quality and professionalism and take pride in every plant replacement they undertake. Replacing aging and inefficient equipment with the latest models installed by The Artic team result in happy customers saving money on energy bills and reducing their business environmental footprint.
If you would like more information about our Projects department or have any items of plant that may need replacing, please contact us.
If you're looking to partner with Artic Building, then please complete the Working With Artic form here.
Do you have an upcoming project or tender? Then please complete the form below.