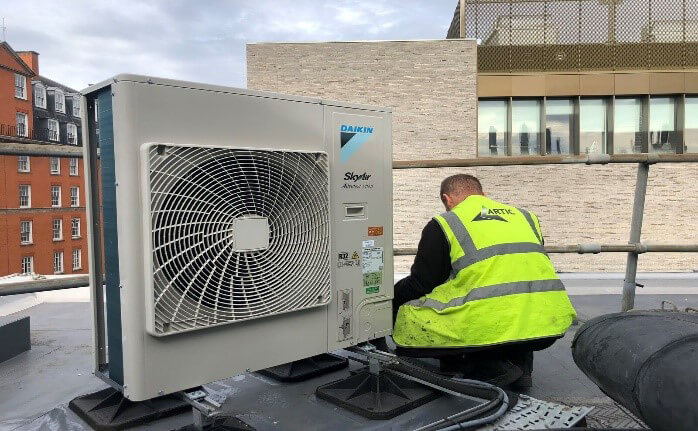 With airborne transmission accounting for over a third of all hospital-acquired infections, healthcare professionals must explore methods of limiting the spread of contagious viruses and respiratory tract infections. Airborne infections are transmitted from an individual to another through droplets of moisture released from the upper respiratory tract through coughing and sneezing. Some virus droplets, like Covid-19, remain in the air for up to three hours and can be carried by the airflow due to their size. If maintained and optimised correctly, HVAC systems play a pivotal role in preventing hospital-acquired infections.
Paul Lucas, Managing Director at Artic Building Services, providers of HVAC maintenance services to NHS trusts across London, discusses how HVAC systems can promote infection control within a Healthcare environment and how PPM ensures optimum performance.
HVAC Maintenance Can Aid Infection Control
Studies have consistently shown that ventilation is one of the key factors that influence airborne transmission, highlighting the importance of HVAC systems in reducing the risk of healthcare staff and patients catching infectious viruses. As a result, maintaining good air quality is a critical strategy in decreasing infection rates in healthcare environments. But what actions can be taken to help HVAC systems control the spread of infection in healthcare environments?
Circulate Fresh Air
With the World Health Organisation reporting that poor ventilation increases the risk of transmitting Covid-19, the safest indoor space is one that is constantly receiving fresh air which replaces the stale indoor air. Replacing stagnant air with fresh air from outside dilutes the contaminants that linger in the indoor air and reduces the risk of airborne transmission.
The air exchange rate represents the number of times fresh outdoor air replaces indoor air in an hour. A study into a hospital in Hong Kong suggested that during a pandemic, the air exchange rate should be nine times in an hour. These findings highlight the importance of adjusting the HVAC system's settings to circulate more fresh air around the hospital every hour.
Change The Air Filter
Air filtration plays a crucial role in preventing the spread of infection, with studies showing a positive correlation between higher quality filters and reduced airborne transmission risks. Designed to filter 99.97% of particles with a diameter of 0.3 microns, High Efficiency Patriculate Air (HEPA) filters are commonly used in healthcare environments and have demonstrated good performance filtering Covid-19 droplets and other airborne contaminants. Healthcare guidelines around air filtration suggest that HEPA filters are effective in most patient care areas, lowering the risk of infection.
To sustain the performance of the HVAC system, air filters should be regularly cleaned or changed to ensure that they do not become clogged and less effective. The type of filter and its MERV rating will indicate how often it should be changed, but in a healthcare setting, filters should be changed more frequently due to the higher risk of infection presented by the medical environment.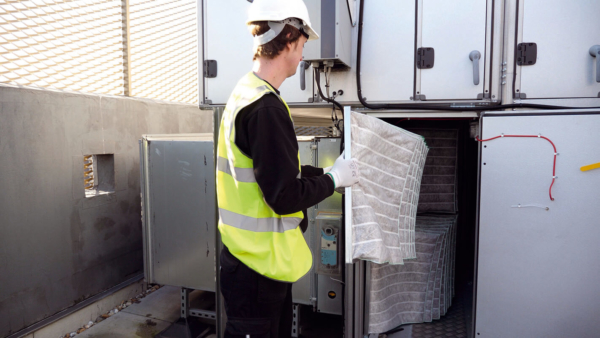 Deep Clean the HVAC System
With industry specialists arguing that dirty HVAC systems are often less efficient, cleaning the entire HVAC system is another strategy implemented to reduce the risk of airborne infection within hospitals. A thorough HVAC clean can enhance indoor air quality, lower the risk of airborne infection, extend the longevity of the unit, and provide energy savings.
To enhance the performance of an HVAC system, the following must be cleaned:
Condensate drain
Evaporator coils
AC ducts
Air filters
The exterior of the unit
When it comes to infection control, cleaning the evaporator coils is particularly important because dirty coils are the perfect place for mold, bacteria, and other contaminants to build up. The air passing through the coils has already been filtered, meaning any bacteria in the coils may be dispersed throughout the hospital. Unclean AC ducts carry a similar risk and should be routinely cleaned to mitigate the risk of infectious droplets being carried by airflow through the system and into hospital wards.

PPM Will Enhance Infection Control
In healthcare environments, planned preventative maintenance (PPM) is crucial because it ensures that HVAC systems are compliant with health and safety legislation while improving infection control. A strict PPM schedule reduces the frequency of unplanned repairs and ensures the system is operating at peak efficiency, thereby reducing the transmission of airborne droplets.
According to the Department of Energy, 25 to 40 percent of air flowing through HVAC systems is lost due to leaky ductwork, making checking the duct system highly important. To further support the circulation of fresh air around the hospital, some form of manual intervention may be required to increase the air exchange rate, fully open dampers, and close recirculation paths to improve airflow.
Other PPM tasks that improve the performance of an HVAC system include:
Recharge refrigerant and repair refrigerant leaks
Check and lubricate belts, bearings, and other moving parts
Check and calibrate system controls and thermostats
Inspect heat exchanger and operation of the fan
How Artic Help Lower Infection Rates
Artic specialise in maintaining HVAC systems and work closely with hospitals within London and the Home Counties to help reduce the spread of infection. To help achieve a covid-secure environment, our engineers receive extensive training in infection control, wear full PPE, and practice lone-working when accessing HVAC systems and other confined spaces. Our condition-based maintenance support ensures that HVAC systems are actively reducing the risk of transmission by efficiently replacing potentially contaminated air with fresh air.
If you'd link to find out more about how your HVAC system can prevent infection, please contact us.
Share This Story!
If you're looking to partner with Artic Building, then please complete the Working With Artic form here.
Do you have an upcoming project or tender? Then please complete the form below.