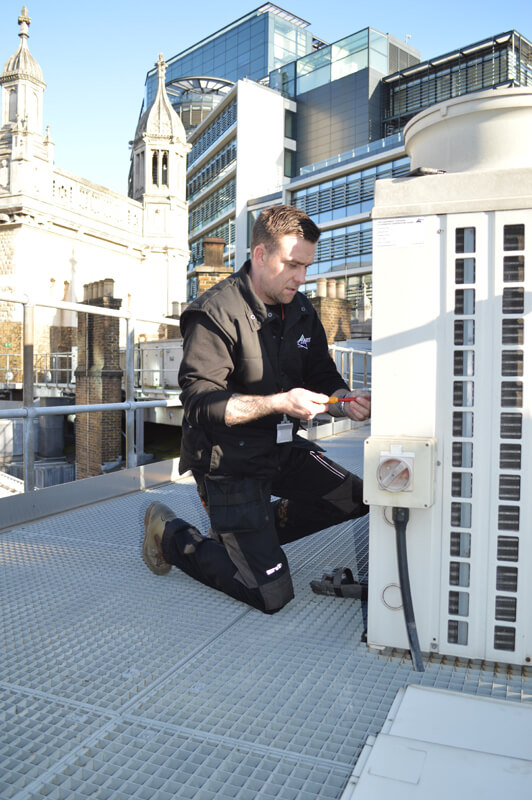 We have recently had the first spell of hot weather this year, albeit during lockdown, but with the rest of the summer months fast approaching us, will your system cope working to it's max? In particular, if you haven't been running equipment and systems while the lockdown has been in force, you might find when you restart them, they don't work or need some TLC.
As we start to return to the 'new normal' coming out of the pandemic and with the measures in place to ensure our continued safety, it is vital you are prepared. Servicing critical equipment before you switch it back on will ensure everything is in good working order ready for the summer months and minimise breakdowns when you need your occupants of the building to be most comfortable.
Although there are many things that can go wrong with your cooling system, there are a few issues that we encounter more often than others. Here are some of the most common reasons behind AC breakdowns and what you can do to avoid one this summer.
1. Lack of proper maintenance. Keeping your air conditioning system well-maintained is crucial if you want to avoid problems with your system when it is working to its maximum. This starts with getting your bi- annual service as guided by SFG20, the definitive standard for planned maintenance. Inspecting your entire system and performing maintenance tasks can prevent common problems like dirty coils and clogged condensate drain lines that can cause your system to breakdown. If your system has been turned off or running on recirculation mode, it is advisable to perform a full service prior to occupants coming back into your building.
2. Running your A/C with a dirty filter. A build-up of 1.05mm of dirt on a cooling coil can result in a decrease in efficiency of 21%. When it comes to maintenance tasks that you should perform, changing your air conditioner's filter is the number one priority, even if you have a brand new air conditioner, change or clean your filter once per month. We also, now have evidence that microbial contaminants will grow on filters in 14 days.
3. Refrigerant leak. Refrigerant pumps through your air conditioning system to keep it running. If your system develops a leak, under F-Gas legislation, this must be addressed immediately to stop the emission of GWP gases irrespective of the need to keep the system running. It can also create a domino effect of problems that can ultimately result in a complete system breakdown. You cannot afford to let uncontrollable issues like this affect you during the next few months, when temperatures are at their hottest and the system is vital for comfort cooling.
4. Heavy usage. There is no getting around it; your air conditioning system will have to work extremely hard on certain days this summer especially as the latest Covid-19 advice is to keep they system running on full fresh air mode. That added stress can lead to problems like overheating, tripped circuit breakers, blown capacitors, compressor failures and more. Instead of manually setting your thermostat to 18 degrees when the temperature spikes, set a cooling schedule that allows the system to cycle on and off more consistently and maintain a reasonable temperature. Doing so will take some pressure off your system and also keep your bills under control.
5. Old system. Air conditioning systems last for a number of years, however as they start to get older, things start to breakdown. Summertime will put your air conditioning to the test, now is the time for you to consider the pros and cons of replacing old or inefficient equipment. Installing new assets can avoid breakdowns this summer, but it can also be more efficient and environmentally friendly. Coming out of the crisis it is important we consider a cleaner and more proactive recovery.
The warmer months aren't just about preparing your air conditioning, it's also the perfect time to look at your heating system for winter. Click here for more information on getting your HVAC equipment ready for winder.