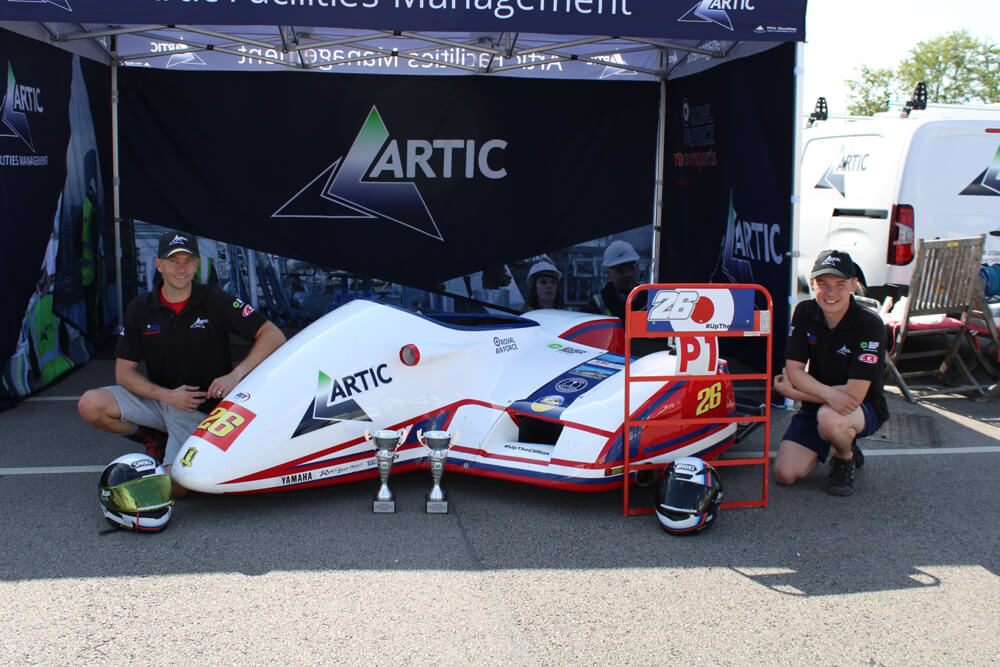 After a break of 6 weeks to accommodate the Isle of Man TT races, The British F2 sidecar championship returns for its third round at the picturesque Anglesey track in North Wales.
The RAF F2 sidecar team powered by Artic currently top the championship leader board for the F2 Cup category with a perfect record of 4 race wins from 4 starts and head to Anglesey full of confidence at a track where they have generally been fast and successful. The Coastal track at Anglesey is a challenging mix of long straights and sweeping high speed corners with two tight and technical hairpins to really test the sidecars. Situated up on a plateau above the scenic Welsh coastline also means that windy conditions can play their part in testing driver and passenger. The team will have to be at the top of their game to run well here with the rest of the F2 Cup pack breathing down their necks.
After clinching two race wins in the first round at Brands Hatch and two further wins at Donnington, Rob and Mark are keen to consolidate their championship lead with a solid performance in the two points scoring races over this weekend. They will be chased hard by second place Brian Ilaria/Arlo Brown and the rest of the field all aiming to take advantage of any issue for the RAF boys.
At this event, all the sidecar teams will be sporting #27 stickers in memory of Roger and Bradley Stockton after their tragic accident at the Isle of Man TT races. The thoughts of Artic are with the family and friends of Roger and Bradley.
BRITISH F2 SIDECAR CHAMPIONSHIP
The RAF team of Rob Atkinson and Mark Middleton are based at Brize Norton airbase in Oxfordshire, famous the world over, and used as a set in the latest Bond film. Away from the excitement of Hollywood, the team get their adrenaline fix on the racetracks of the UK through a six-round, 13 race championship taking in Brands Hatch and Donnington Park before heading to Wales and Scotland later in the season. Further supporting race meetings are planned on the Isle of Man and Brands Hatch (again) so our staff and customers will have ample opportunity to see the team up close and in action.
Our sponsorship has enabled the team to significantly enhance the bike for the new season with a new engine, new ignition system and major chassis alterations. We are looking forward to joining and supporting the team in their quest to become British champions.
Share This Story!
If you're looking to partner with Artic Building, then please complete the Working With Artic form here.
Do you have an upcoming project or tender? Then please complete the form below.