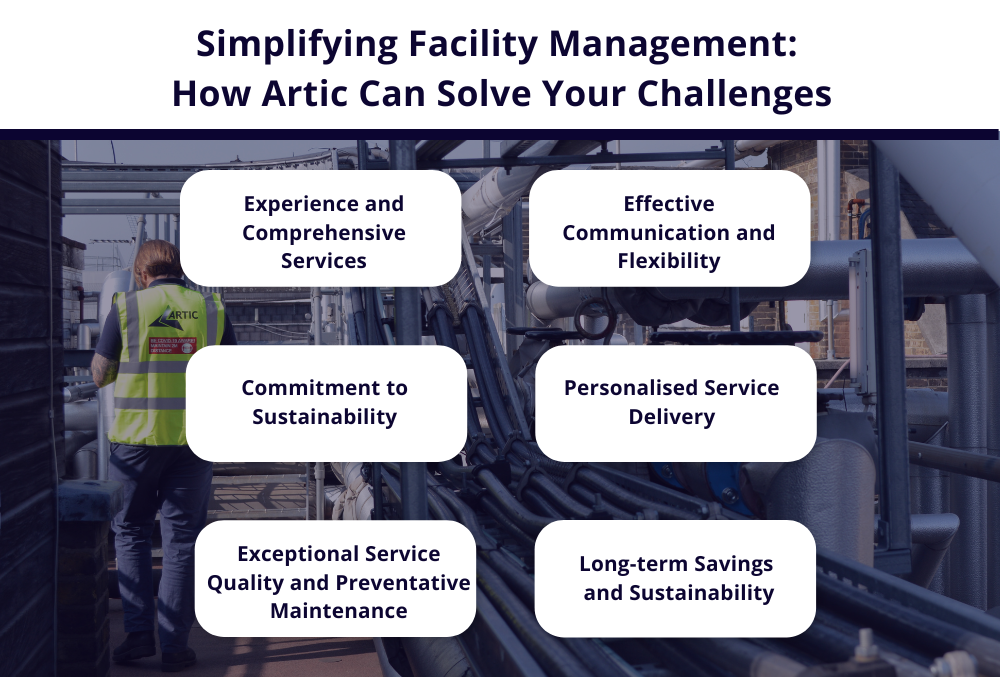 Introduction:
Managing a large building comes with its fair share of challenges. From communication issues to juggling service providers while maintaining cost-effectiveness and quality, it can be overwhelming. At Artic, we understand these struggles, and our mission is simplifying facilities management, providing stress-free solutions.
Experience and Comprehensive Services:
With over 25 years of experience and a team of more than 100 skilled engineers, Artic offers a comprehensive suite of Hard FM maintenance services. Our team includes heating specialists, AC engineers, and Multi Skilled professionals who are ready to cater to your specific requirements. No matter how unique your site's needs are, we have the capabilities to handle them effectively.
Effective Communication and Flexibility:
We value effective communication and believe in transparency. That's why we offer monthly meetings with a dedicated contract manager, along with detailed monthly reports, to keep you updated on our progress. Our contracts are designed with flexibility in mind, ensuring they accommodate your specific needs, requirements with full compliance assurance. Our dedicated contract support team is always available to address any concerns or issues promptly.
Commitment to Sustainability:
At Artic, sustainability is at the heart of what we do. Our Artic Zero initiative provides you with a clear pathway to achieve net-zero carbon. We work closely with you to understand your sustainability goals and help you achieve them. With our expertise, experience, and dedication to communication and sustainability, we aim to build a strong partnership with you, addressing your unique challenges together.
Personalised Service Delivery:
When choosing an FM service provider, investing in quality services brings significant benefits. Artic is a specialist M&E contract provider that prioritises a personalised approach. Our process begins with a comprehensive discovery meeting to understand your specific requirements and key performance indicators. This allows us to develop a tailored solution that perfectly aligns with your facility's needs, considering any special considerations or challenges it may present.
Exceptional Service Quality and Preventative Maintenance:
By choosing Artic, you can expect exceptional service quality. We adhere to the highest standards and utilise quality materials to ensure optimal performance and longevity of your building and equipment. Our team of skilled professionals, with their extensive experience, can swiftly respond to your needs and provide effective solutions. Additionally, our tailored planned preventative maintenance (PPM) regime helps minimise breakdowns and extends the lifespan of your equipment.
Expertise and Minimised Downtime:
Expertise plays a crucial role in FM services, and at Artic, we pride ourselves on our team of highly skilled professionals. With proficiency in a wide range of maintenance and repair tasks, they can promptly diagnose and address any issues, minimising downtime and reducing the need for extensive remedial works.
Long-term Savings and Sustainability:
While investing in a quality FM service provider may come with a higher upfront cost, it leads to long-term savings. By preventing breakdowns and extending the lifespan of your equipment, you can significantly reduce your overall capital expenditure on repairs and replacements. Moreover, partnering with a reputable provider like Artic enables you to promote sustainable practices, reducing your carbon footprint and contributing to a greener environment.
Conclusion:
At Artic, our commitment is to deliver high-quality services that not only meet your needs but also exceed your expectations. Whether you require regular maintenance services, project capabilities, or emergency support, we're here to assist you. Contact us today to learn more about how Artic can effectively address your facility management needs.
Share This Story!
If you're looking to partner with Artic Building, then please complete the Working With Artic form here.
Do you have an upcoming project or tender? Then please complete the form below.