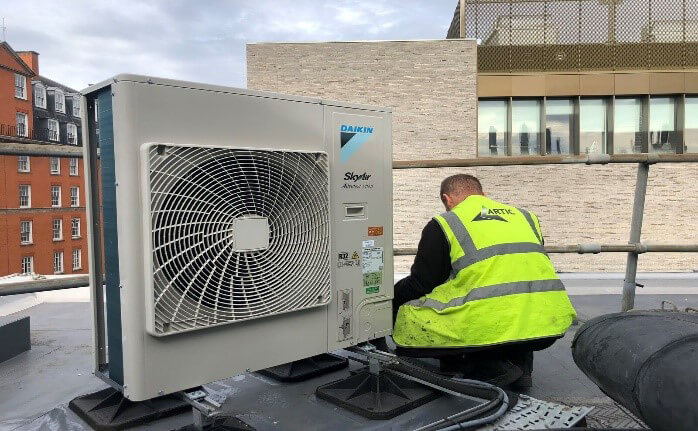 With the UK aiming to end its net overall contribution to global warming by 2050, buildings are under increasingly thorough investigation to uncover and implement ways of improving internal efficiencies. Facilities Managers are experiencing more and more pressure to optimise HVAC systems to prevent the spread of airborne diseases such as Covid-19 and reduce overall carbon emissions across their estates.
Business and Energy Secretary, Alok Sharma, said "Climate change is among the greatest challenges of our age. To tackle it we need to unleash innovation in businesses across the country."
With that challenge in mind, Paul Lucas, Managing Director of Artic Building Services Ltd, specialists in Hard FM and Mechanical and Electrical Installations, discusses the future technology and optimisation of HVAC systems.
Optimising HVAC Systems
HVAC systems are often the main influence in consuming high levels of energy and emitting a significantly high volume of carbon into the atmosphere. Industry experts estimate that HVAC systems account for 50% of a building's total energy consumption and 40% of total worldwide carbon emissions.
As they become more and more familiar with assets on contracted sites, Facilities Maintenance companies owe it to their clients to be constantly vigilant of wasteful operating regimes. Smart meters, modules and associated plant can work with cloud-based software platforms to quickly, and in real time, assess HVAC processes for efficiency and to make even subtle changes to the operating control to realise carbon emission reductions. This industry is driven forward by ever more sophisticated software algorithms monitoring and constantly evolving optimisation of HVAC systems to the most efficient operating parameters .
Here at Artic we embrace the future and have built a strong foundation for what is already much of what we live and breathe in our daily operations. Understanding the importance of optimising HVAC systems and constantly reviewing the performance of our client's plant, enables us to build business focused maintenance schedules and/ or bespoke condition-based regimes to direct our maintenance efforts more accurately and to reduce the overall environmental impact of our maintenance provision.
A few ways we have been able to reduce HVAC emissions for our clients include:
Using smart sensors to measure air quality and determine the appropriate amount of ventilation.
Regularly cleaning the system to ensure dirt does not build up and cause the HVAC system to use more energy to control the airflow.
Installing a low-energy humidifier to replace typical electric steam humidifiers.
Ensuring the water used by the system is clean and maintained at the right volume and pressure.
By understanding this from our own experiences, we can show that optimising an HVAC system and controls package can often lead to around a 30% reduction in energy consumption.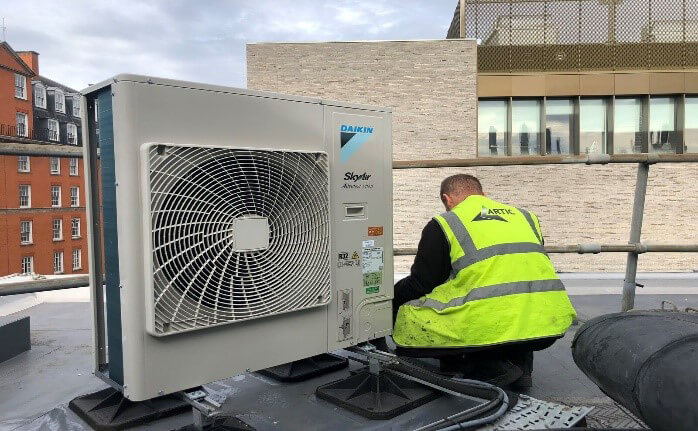 AI-Driven HVAC Systems
Artificial Intelligence (AI) is being integrated into HVAC systems to improve their performance and reduce their impact on the environment. AI-driven HVAC systems are integrated with smart sensors that monitor the conditions in the building and make real-time adjustments to ensure that indoor environment quality is maintained efficiently. It would be extremely challenging for a Facilities Manager to monitor building conditions, take in and assess all the received data and then to make these operational adjustment decisions. It would take a team of engineers working 24/7 to achieve what AI can do in minutes.
One study found that AI-assisted HVAC systems created an average energy saving of 41% when compared with standard systems. AI-driven HVAC systems avoid human intervention while saving energy, cutting costs, and reducing the volume of carbon emitted. Embracing this new technology has allowed us to be much more proactive and take a coordinated approach when it comes to plant performance. Establishments such as data centres and hospitals that house business-critical plant, will find that if they are serious about reducing carbon emissions, this is the way they will have to proceed in the future.
Prevent The Spread Of Viruses
Ventilation is a key method used by hospitals and other clinical facilities to control the spread of viruses and remove infectious agents from the air. HVAC systems help mitigate the risk of airborne transmission and ensure where possible that indoor air is virus-free.
Although the transmission of coronavirus particles and other viruses through HVAC systems is possible, experts argue the risk is reduced in a well-maintained system.
To reduce the risk of transmission:
Run HVAC systems overnight and during weekends to increase the replacement of air.
Regularly check HVAC systems to ensure they are effectively circulating air with minimal re-circulation.
Install high-performance air-purification systems that reduce airborne contaminants.
Install variable-speed motors that enhance the control of airflow.
Check, clean and change air filters regularly.
At Artic, our experienced Contract Managers will optimise your HVAC system, improving its performance and reducing the spread of viruses.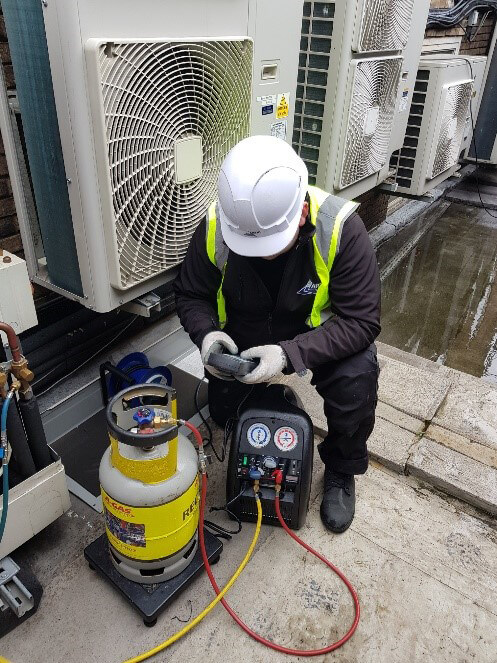 Summary
HVAC systems are a leading cause of carbon emissions and must be constantly addressed and assessed on a national level to help achieve the UK's net-zero carbon emissions target. Optimising existing HVAC systems and upgrading to AI-assisted HVAC systems significantly reduce the volume of carbon emitted from commercial and residential buildings and will save the building owner money on running costs.
To find out more about what Artic can do for you, please get in touch.