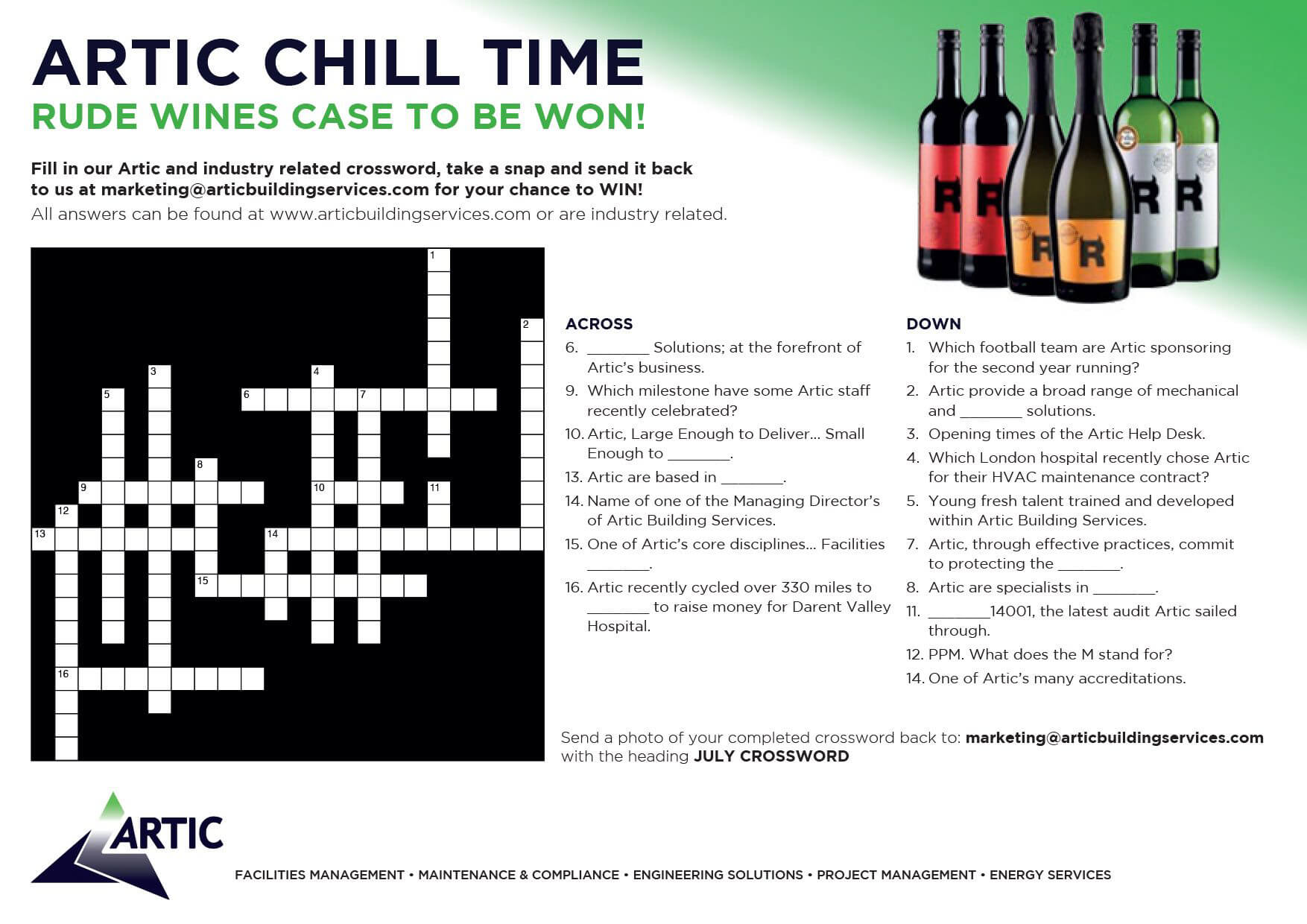 These rules apply to the Wordsearch and Crossword competitions from Jun 2019 onwards. Any queries, please message the organiser, details below.
These Wordsearches & Crosswords are designed for a fun coffee-time fill in and consist of industry related questions or about Artic Building Services Limited (Artic).
Each month we will have a Wordsearch or Crossword, each with its own unique prize.
Prize Draw will be drawn within a week of each month ending and the winners notified.
All answers about Artic can be found at www.articbuildingservices.com or in the article that had recently been published. These can be found at…

Artic Building Services' LinkedIn Page.
Colin Trowell – Managing Director – LinkedIn Page.
Paul Lucas – Managing Director – LinkedIn Page.
One of our Artic newsletters.

You are only eligible to receive the Prize Draw gift if you are…

Responsible for the purchasing, or advise on the purchasing, of the Hard FM for your company or estate;
Or are a key influencer for the Hard FM sector;
Are not an employee of Artic, or a relative of an employee;
If you are none of the above, enjoy the competition but unfortunately you won't be able to scoop the biz prize.

You can download and enter as many times as you wish.
You are allowed to forward this competition to anyone else within the FM industry.
The Organiser is lorri@tbiaircon.co.uk, The BIG Bright Ideas Group Ltd., and their decision is final in all matters relating to this competition.
Any queries or questions, please contact Lorri Delahunty on lorri@tbiaircon.co.uk or 07714 493353.
Thank you for your interest in Artic Building Services Limited.
ENJOY THE COMPETITIONS!
If you're looking to partner with Artic Building, then please complete the Working With Artic form here.
Do you have an upcoming project or tender? Then please complete the form below.