Over the weekend of the 12/13 October 2013 Artic Building Services Ltd took a giant leap forward and moved from their Ladywell offices into their purpose built premises  located at Crossways Business Park in Dartford. To ensure that we are able to maintain the rapid response required by many of our central London based clients we have opened satellite office and storage facilities sited in Dulwich and Gresham St in the City. The move to Dartford represents a logical progression for Artic, we had outgrown our old premises and needed to move onto the next phase of the companies development.

The Dartford Head office was originally two units that were separated by a central block wall partition, in this configuration the building were not suitable for our needs. This was circumvented when Peter Hammond, Artic Projects Director, stepped into the fray and decided that his team could do a complete re-design of the building structure, to include the mechanical and electrical services. The building work started with the demolition of the partition wall and the existing office areas to create a large void into which we could build our own bespoke working environment. The foundations of the main central support columns were reinforced, and once the foundation work had been completed steelwork was installed to create the support for a mezzanine to cover the complete 1st floor.
This created the ideal space to house the departments of finance, design, projects, electrical, business development and of course the directors. The ground floor was designed to house the service and maintenance department alongside the Essentia team. Also housed on the ground floor is the training workshop and the storage warehouse.

Heating, ventilating and air conditioning are the main elements of our business, it was therefore decided that we would install a state of the art climate control system.  Following extensive calculations of thermal inputs, air circulation velocities, volumetric flow and refresh rates the design team generated the optimal solution. During the design phase the team identified the business critical elements of the electrical services, subsequently a 20 minute UPS was installed to ensure that during any power outage there would be continuity of computer servers, telephones, security systems and most importantly the tea machine. Additionally a dedicated fibre optic internet cable was installed into the premises to achieve maximum communication speed which enables us to employ voice over internet telephonic functionality.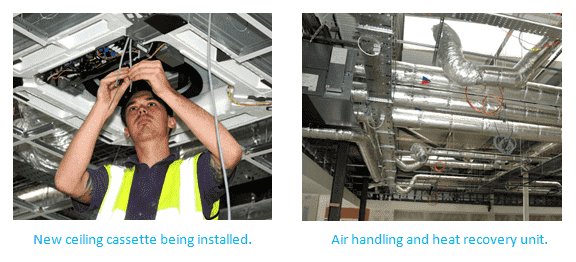 The project was completed on time and to budget, (it might have been embarrassing for Peter Hammond, Projects Director, who took personal control of this project if it hadn't!!), the move from Ladywell took place over the middle weekend of October and was described as "seamless" with complete continuity of business. Richard Tooher and Vince McAnallen, Managing Directors, congratulated all involved in the move, especially the operations team. They commented "To move to our new premises with such a large amount of equipment and personnel whilst maintaining normal business over a 48 hour time period has been a fantastic achievement, well done to all. We are committed to growing the Artic Team and the business and look forward to our next move when required!"