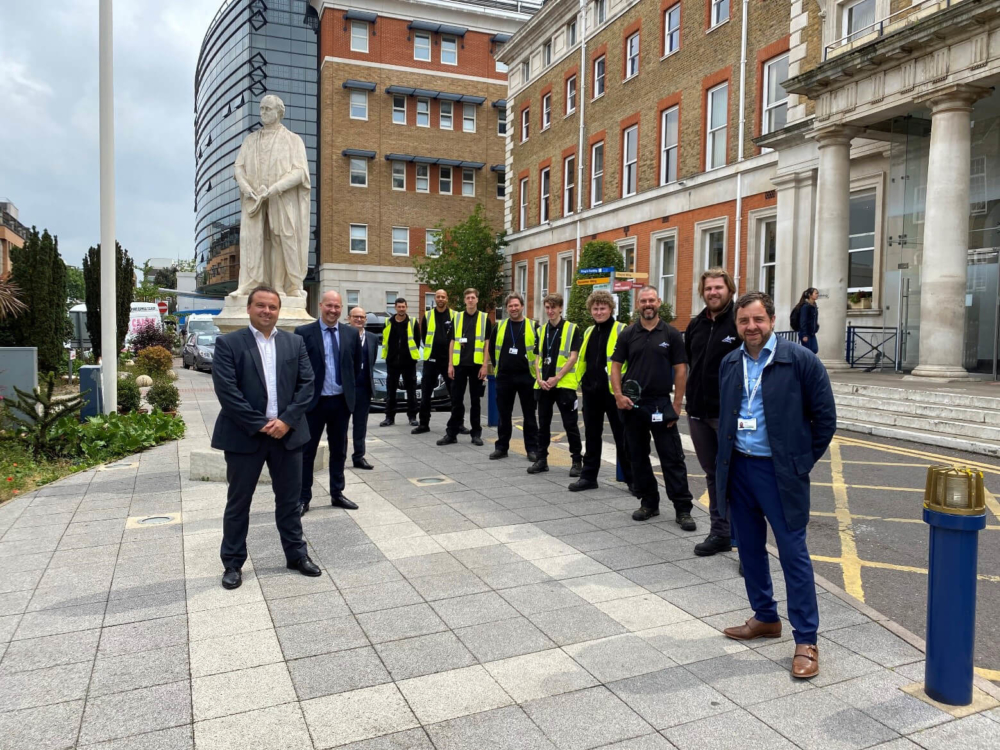 Kings College Hospital – HVAC Maintenance
Project Start Date: June 2019
Project Completed: Ongoing
Project Value: £530,000
King's College Hospital is an acute care facility in Denmark Hill. Artic have worked on site at KCH with the estates team since our own inception back in 1998. Artic continued to supply maintenance services on HVAC equipment to various parts of the KCH estate. KCH policy meant that they spread their service requirements across several companies. In 2019, the hospitals estates team decided to consolidate all their individual HVAC contracts into one with a tender competition with all its provider partners. Artic's proposals for the full estate wide HVAC contract proved to offer the best business advantage for the hospital and we were appointed the full and complete HVAC contract in May of 2019 for a 3 year term. Artic returned to site supplying a team of 2 site-based engineers, an experienced KCH Site Manager with dedicated Contracted Management and Administration to provide any work deemed as required by estates to all site HVAC plant under HTM protocols.
In 2019 Artic were invited to tender for the contract of Planned Preventative Maintenance, these assets included:
Air Handling Unit Specialised
Air Conditioning systems including Splits and VRF
Pressurisation Unit
Air Handling Unit General
Chiller Systems
Plate Heat Exchanger
Chilled Beams
Pumpset
Calorifier
Artic Building Services was one of over 20 companies participating in the tender competition. Following a competitive bid process, Artic were shortlisted in addition to 1 other company. After careful consideration of each proposal, Artic were selected as the contractor of choice.
The Services
We began with a full time residential team of 6 on site that consisted of a Contracts Manager, Administration, 2 off PPM engineers, 2 off dedicated reactive works engineers and 1 off junior engineer. Our responsibilities include the provision of both planned and reactive maintenance services to over 6,000 assets. Our works stretch across the whole KCH estate at Denmark Hill bring challenges unique to hospital environments. The hospital facilities department have relied on our teams' flexible approach to working and scheduling where access to certain critical areas can be changed in the blink of an eye. Our previous experience of the site, it's cascade of critical areas and the personalities involved means that our team under the onsite Contract Manager can easily and efficiently adapt to the changing requirements on each estate building. KCH have appreciated the effort this takes to achieve without losing working efficiency and keeping the contract within budget. Work is scheduled and planned using the clients FAMIS system with regular monthly management reports produced that show our performance against an agreed schedule of KPI's. Even with challenge of constant changes, Artic have demonstrated strict adherence, and in most cases, exceeding of, all KPI thresholds indicating excellent service provision following the agreed SLA. Since the initial contract mobilisation, Artic have submerged themselves in the culture of Kings College Hospital and supported it in its provision of stable and comfortable internal environments for its patients and staff.
At Artic, we understand the importance of maintaining a safe and compliant environment in healthcare facilities. That's why we offer expert facilities management services designed to meet the highest standards of HTM compliance. Our goal is to ensure the safety, comfort and wellbeing to patients, staff and visitors by providing effective solutions that meet the requirements of HTM and legislative guidelines. So if you're looking for a trusted partner to help you manage your healthcare facility, contact us today to learn more about how we can help.
Share This Story!
If you're looking to partner with Artic Building, then please complete the Working With Artic form here.
Do you have an upcoming project or tender? Then please complete the form below.