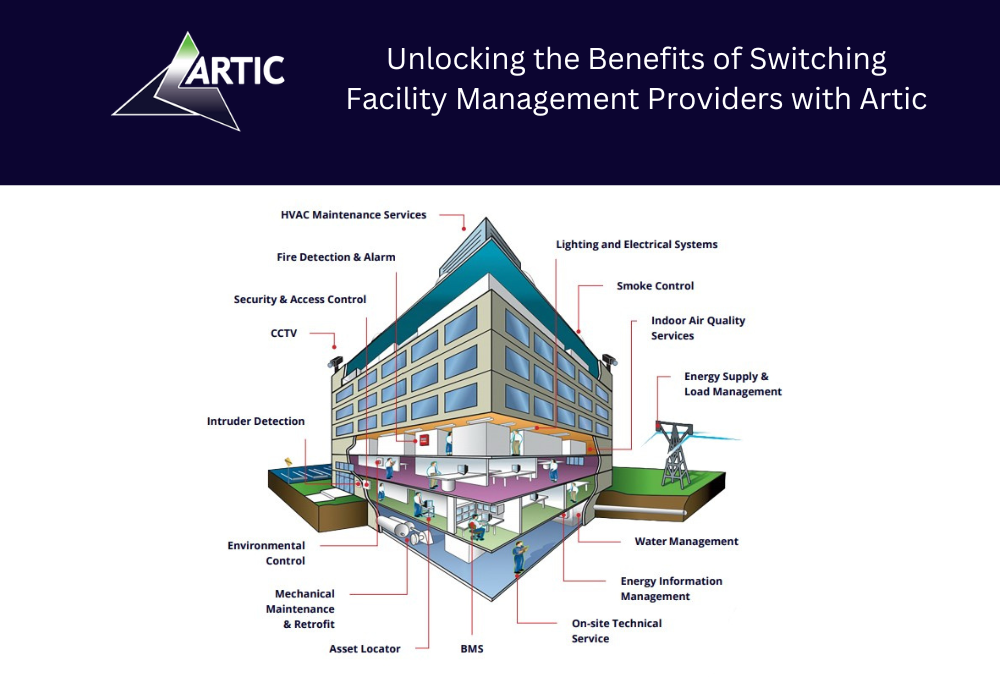 Introduction:
When it comes to facility management, having the right provider can make all the difference. However, if you find yourself facing challenges or limitations with your current facility management provider, it may be time to consider making a switch. Switching to Artic can unlock a range of benefits that can significantly enhance the performance and efficiency of your facilities. In this blog post, we will explore the key benefits of switching facility management providers and how Artic can help you achieve your facility management goals.
Fresh Perspective and Innovation:
One of the primary benefits of switching to Artic is gaining a fresh perspective and access to innovative solutions.  Complacency can option set in with incumbent providers resulting in a dip in service levels, increased costs and compliance risks.  With our extensive experience in facility management, we bring a wealth of knowledge and expertise to the table. Our team of experts will conduct a thorough assessment of your facilities, identifying areas for improvement and implementing cutting-edge strategies to optimise your operations. We stay up-to-date with the latest industry trends and technologies, ensuring that you benefit from the most innovative solutions tailored to your facility's specific needs.
Tailored Solutions for Your Needs:
At Artic, we understand that each facility is unique and requires tailored solutions. Every Artic contracted client has different priorities.  We work closely with you to develop a customised facility management plan that aligns with your goals and objectives. Whether you need assistance with planned maintenance, reactive repairs, energy management, or compliance, our comprehensive suite of services can be tailored to meet your specific requirements. Our approach is focused on understanding your facility's distinct challenges and developing strategies that deliver tangible results.
Enhanced Service Quality:
Service quality is a top priority at Artic. We are committed to delivering exceptional service at every step of the facility management process. Our dedicated team goes above and beyond to ensure that your facility management needs are not only met but exceeded. We have stringent quality control measures in place, conduct regular performance reviews, and maintain open communication channels with our clients. With Artic, you can expect a proactive and responsive approach to facility management that ensures your facilities run smoothly and efficiently.
Seamless Transition Process:
We understand that the thought of switching facility management providers can be daunting. However, with Artic, you can rest assured that the transition process will be seamless and hassle-free. With a dedicated mobilisation team, we have extensive experience in managing smooth transitions for our clients. The mobilisation team will work closely with you to understand your unique requirements and ensure a smooth switch. We minimise disruptions to your operations and maximise the benefits of switching by carefully planning and executing the transition process.  The majority if not all of the mobilisation processes are undertaken prior to 'Go Live'. With Artic, you can focus on your core business while we take care of the facility management transition.
Cost Savings and Efficiency:
Switching to Artic can result in significant cost savings and improved operational efficiency for your facility. Our expertise in energy management, preventive maintenance, and streamlined processes enables us to identify opportunities for savings and optimise your facility's performance. We take a proactive approach to cost control, helping you reduce expenses while maintaining the highest standards of facility management. By partnering with Artic, you can unlock cost savings and enhance your facility's overall efficiency, positively impacting your bottom line.
Conclusion:
Don't let the limitations of your current facility management provider hold you back. Switching to Artic can unlock a range of benefits that can transform your facility management experience. From fresh perspectives and tailored solutions to enhanced service quality, seamless transitions, and cost savings, Artic is your trusted partner for facility management excellence.
Share This Story!
If you're looking to partner with Artic Building, then please complete the Working With Artic form here.
Do you have an upcoming project or tender? Then please complete the form below.