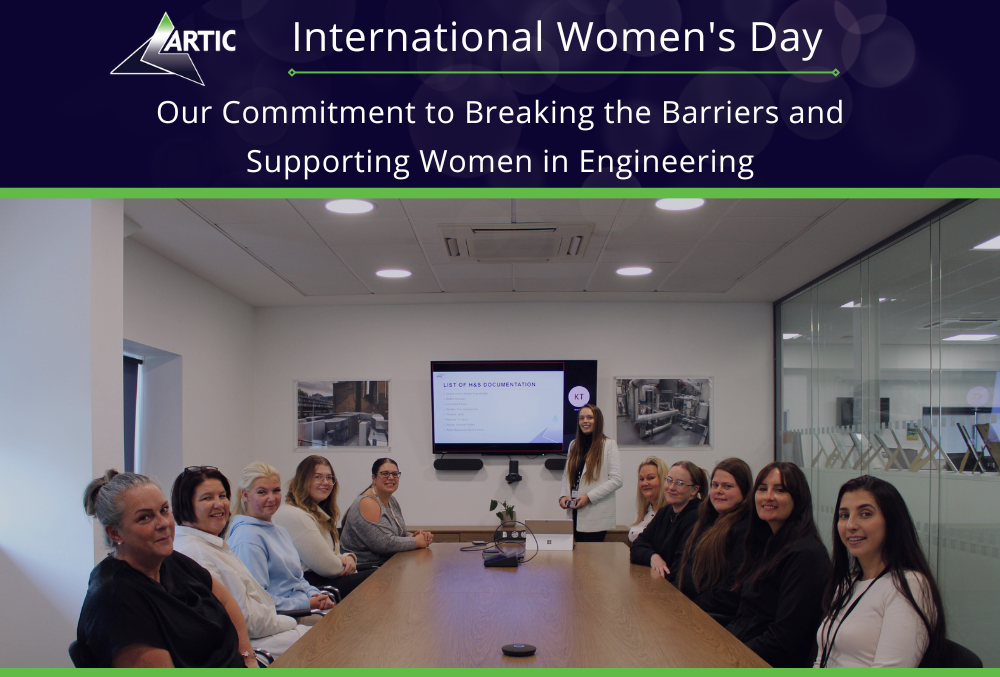 For far too long, the engineering industry has been a male-dominated field, with women facing significant barriers to entry and advancement. But times are changing, and more and more women are quite rightly pursuing careers in this exciting and rewarding industry.
At Artic, we're proud to be part of this movement, encouraging women to join us together with developing those already within and break through the glass ceiling that the industry can at times potentially hold them back.
Glass Ceiling in Engineering
We recognise that the glass ceiling is a real and persistent problem, and we're committed to doing our part to break it.  That's why we're excited to be holding our first STEM event at a local all-girls school, where we hope to inspire young women to pursue careers in engineering and provide them with a tangible career pathway to the many job possibilities available to them within Artic and the Industry.
M&E HVAC Engineering: Women's Contributions and Challenges
M&E HVAC Engineering is a complex field where problem solving and adapting is a must to resolve issues.  Women are strong and resilient and able to adapt with immediacy to solve problems, coupled with an engineering background makes them a formidable asset and at least, equal to their male counterparts.
However, women still face significant challenges in the engineering industry. According to the Women's Engineering Society, only 12% of engineers in the UK are women, and they earn on average 9.7% less than their male counterparts. Women engineers may also face unconscious bias or discrimination in hiring, promotion, or pay. It's clear that there is still much work to be done to ensure that women are fully represented and valued in the industry.  Given that 18% of the UK work in engineering, there is not only a place but a necessity that women play a major part in this vital service.
Women's Contributions to Engineering
Women have made significant contributions to engineering throughout history. For example, Dame Caroline Haslett was an electrical engineer who co-founded the Women's Engineering Society and played a significant role in promoting women's participation in the field. Dr. Hayaatun Sillem is the CEO of the Royal Academy of Engineering, leading the organisation to promote engineering excellence and diversity in the UK. Today, female engineers are continuing to make important contributions in various fields, such as Roma Agrawal who is a structural engineer that has worked on some of the UK's most iconic structures, including The Shard in London.
Artic's Commitment to Breaking the Barriers and Supporting Women in Engineering
At Artic, we take pride in our diverse team of talented women who bring unique perspectives and skills to the engineering industry. We are committed to breaking down the barriers that have historically made this field male-dominated and creating a more inclusive workplace. To achieve this, we have implemented a range of initiatives such as training programs, leadership training opportunities, and flexible work arrangements that support women in engineering at every level of our company, from apprenticeships through to management.
We believe that a diverse and inclusive workplace is essential for better decision-making, improved performance, and greater innovation. To promote diversity and inclusion, we are taking several steps. First, we have conducted a broad diversity and equality survey to identify any unconscious bias and ensure that everyone is treated fairly, while maintaining a fully inclusive working culture. Based on the results of the survey, we will take actions to address any issues that arise.
Furthermore, we are holding internal workshops to educate all staff members about diversity and inclusion and help them understand how they can overcome any biases they may have. By raising awareness and providing training, we aim to enhance our welcoming and inclusive environment for all.
Moreover, we have set a committed task force to increase female engineering representation for Artic out in the field via internal opportunities and recruiting from the grass roots where possible in synergy with our STEM activities. We recognise the current underrepresentation of women in this industry and aim to take proactive measures to address this disparity. Our goal is to create a more balanced and inclusive workplace by actively working towards this target.
To support this goal, we have established a training fund specifically for women. The fund will provide access to various levels NVQ and City & Guilds level technical courses, giving women the opportunity to gain the skills and knowledge they need to succeed in the engineering industry and advance their careers.
Inspiring Stories of Women at Artic
As part of our commitment and in recognition of International Women's Day we spoke to some of the talented women who work at Artic:
Nicola Bilewicz – Projects Health and Safety supervisor
"I love working within the Health and Safety sector within the construction industry, because it's a field where you can really make a difference. I'm proud to be part of a team that is helping to create a more sustainable future." Nicola started her career at Artic as junior administrator 8 years ago and is now highly qualified in her Health and Safety field.  She now oversees the Health and Safety and delivery of all major projects within the company.
Lizzie Lowe – Compliance Supervisor
"I started as an operations administrator without knowing what ISO meant. Now, as a Compliance Supervisor, I have a vast knowledge of ISO and certification standards thanks to the training and support provided by Artic. Despite challenges in a male-dominated industry, my goal is to keep everyone safe and healthy, and my caring nature has been an advantage in achieving this. Artic has equipped me with the necessary training, including NEBOSH in Construction and NVQ Level 6 in Occupational Health and Safety, amongst others, and provided me with great support to help me reach my current position."
Charlotte Divall – Service Operations Manager
"I have enjoyed progressing within the engineering industry, because it's an interesting field with lots of changes so no 2 days are the same. I have had many different roles at Artic within the Service and Maintenance department, progressing from Junior Administrator to Facilities Contract Manager and now Service Operations Manager in my 12 years of working here. I have been able to achieve my FGAS Cat4 and my ILM Level 3 in Management through Artic's support for training. I always have and will continue to champion women's achievements in a male dominated industry!"
Helping women succeed in engineering
We are incredibly proud of all the talented women who work at Artic and their contributions to creating a safer and more sustainable future for everyone.
As we celebrate International Women's Day, we are reminded of the progress that has been made in the fight for gender equality, and the work that still needs to be done. At Artic, we are proud to be part of this movement, and we're committed to breaking down the barriers that have held women back. We believe that by working together, we can build a brighter future for all of us.
#BreakingTheGlassCeiling     #WomenInEngineering     #STEMcareers     #DiversityAndInclusion     #ArticBuildingServices     #InternationalWomensDay
Share This Story!
If you're looking to partner with Artic Building, then please complete the Working With Artic form here.
Do you have an upcoming project or tender? Then please complete the form below.