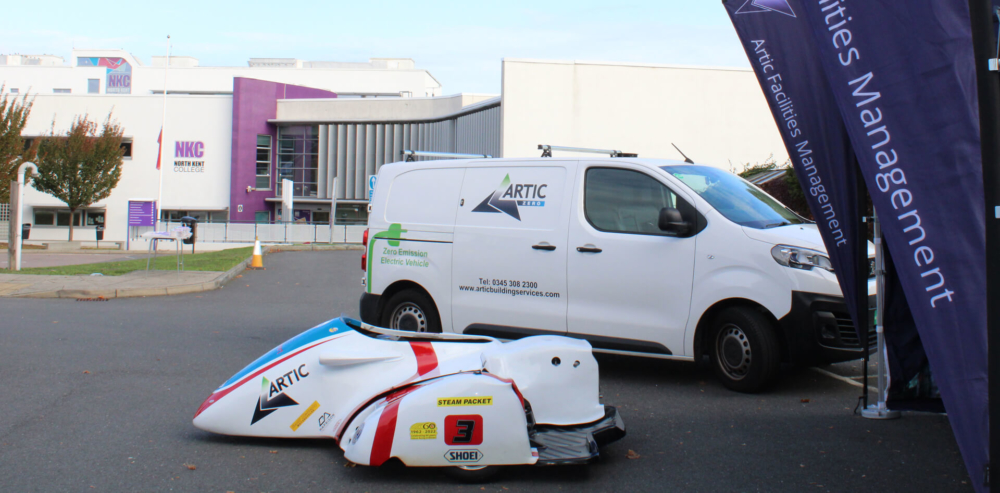 Artic partnered with the RAF F2 Sidecar Team and North Kent College to give students a practical insight into the opportunities available through STEM
Over 120 students in Gravesend, Kent were invited to see the vast range of opportunities within Science, Technology, Engineering and Maths (STEM) careers at an event jointly hosted by Artic Building Services, the RAF and North Kent College on the 12th October, 2022.

The event was held at the North Kent College's Gravesend Campus, which has a large engineering department, covering motorsport engineering, electrical engineering, building services engineering, civil engineering and more. As the post-GCSE students have already taken their first step into engineering as a possible career, events such as these can help cement that interest and attract the future more talent into STEM industries. For Artic, it provided the perfect opportunity to engage with young people in the local community and showcase the various careers available in STEM. It also offered an open forum to students to gain a better knowledge base of where and how they can progress within this industry and the field expertise and educational levels, right up to degree standard, Artic can support with.  Many discussions covered the options open to the students on the numerous career paths in the varying industries and salary expectations for their future careers.
In line with the governments Social Value Model (SVM), we are committed to tackling inequality and equal opportunities, developing engineers including those from disadvantaged or minority groups
Many current Artic apprentices and those apprentices who now are in managing positions within Artic were on hand to discuss their broad career paths with students. One of which had started as a school leaver and now is a HND qualified Project Manager within the organisation. Meanwhile, the RAF sidecar and race car – of which Artic is a sponsor – provided the opportunity for the RAF to describe their activities with the Motorsport Association, sidecar racing and car racing. Together, this gave the students a practical insight into the types of careers they could pursue whilst enthusing them about engineering.
Practical Engineering Examples
In small groups over a four-hour period, students had a chance to see the RAF sidecar set up with the sidecar team performing demonstrations and talking to students about their work. Also on display was a stripped-down motorcar, which provided an excellent talking point about mechanics. The cars were a hit with the students, with some sitting inside the sidecar whilst talking to the RAF team.
Artic's apprentices also spoke to students about their experiences on their apprenticeship programme and how that had helped them achieve their current positions, but more importantly throughout Artic there are tangible colleagues who can demonstrate where they might be in the future. Through the varied range of apprenticeships on offer at Artic, across the core HVAC and electrical disciplines, the programmes have successfully enabled many apprentices to develop their skills in a supportive, engineering expert and inclusive environment. Students were able to gain an insight into how their own careers might progress after their apprenticeships had completed, and what benefits the apprentices had gained from the programme, such as being able to earn whilst learning, continued education to BTEC and Degree levels and opportunities for future promotion.
Creating A Workforce Fit for the Future
The students found the event extremely useful. A common theme that emerged from the feedback received was the value of understanding the different applications of their qualifications. "Today was great, showing us all the different routes we can take when we are qualified," remarked one student. "I am still not sure what I want to do when I leave college, but it is good to know that Artic takes on young people and helps them with their careers," commented another.
The sentiment was echoed by the College, who were pleased to have this engagement from the RAF and companies like Artic. "It was a privilege to host Artic, the RAF and the RAF racing teams to talk to school pupils and our college students about potential future careers that require STEM. So many of our learners discovered new career paths that they didn't know were possible with employers they would not previously have considered. The wealth of knowledge that the various teams brought is immeasurable," said Nikki Franks, Assistant Principal of Construction and Engineering at North Kent College.
Events such as these are a key component of Artic's strategy to attract, develop and retain a workforce with STEM skills. By partnering with the RAF and local colleges such as North Kent College, Artic can help achieve these aims whilst also delivering social value. Artic's apprenticeship scheme was established in 1998 and is recognised as an industry leader, with many senior technical staff and managers having been developed through the programme.
For more information about partnering opportunities that enthuse young people to pursue STEM careers, please contact us
Share This Story!
If you're looking to partner with Artic Building, then please complete the Working With Artic form here.
Do you have an upcoming project or tender? Then please complete the form below.