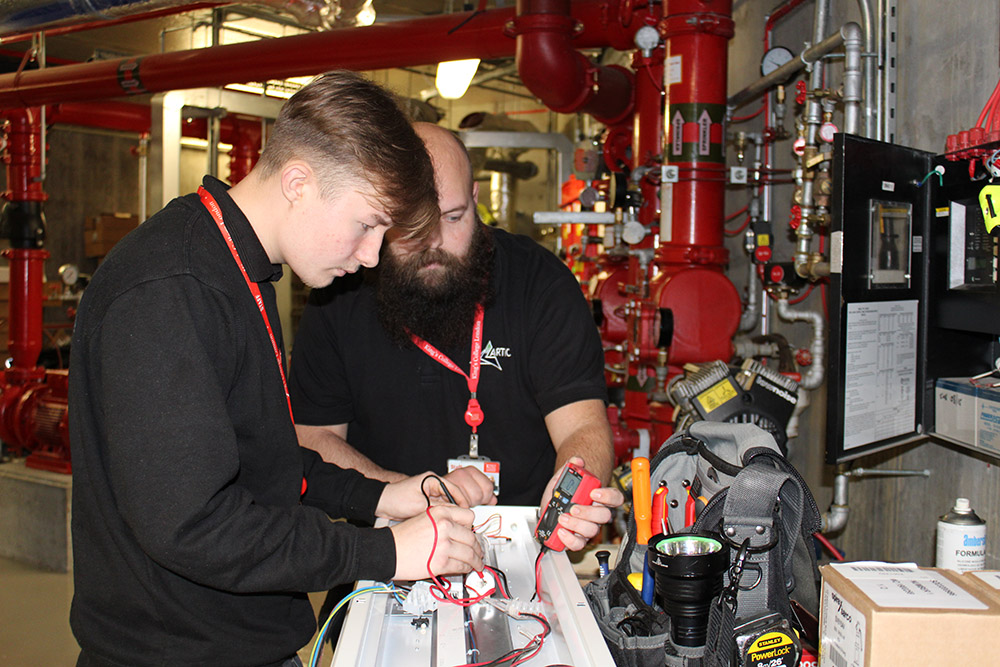 Artic Building Services, a leading provider of Hard FM services in the London and the South, is making a significant impact on young talent and STEM career development through its highly successful apprenticeship scheme. This article highlights the company's recent STEM event in partnership with the RAF F2 Sidecar Team and North Kent College, while also showcasing the inspiring journeys of two apprentices, Danny Coxall and Kieran Rains.
STEM Event at North Kent College:


In collaboration with the RAF and North Kent College, Artic organised an event aimed at introducing over 120 local students in Gravesend, Kent to the vast range of opportunities within Science, Technology, Engineering, and Maths (STEM) careers. Held at the college's Gravesend Campus, which boasts an extensive and recognised engineering department, the event allowed students to explore various fields, including motorsport engineering, electrical engineering, building services engineering, and HVAC engineering. Artic took this opportunity to engage with the students, showcasing the diverse careers available in STEM and offering valuable insights into career progression within the industry. This was complimented by Artic introducing them to a number of personnel who currently occupy positions of management within different levels and departments and their rewarding journey from Apprentice to their current capacity within the company.
Danny Coxall's Journey: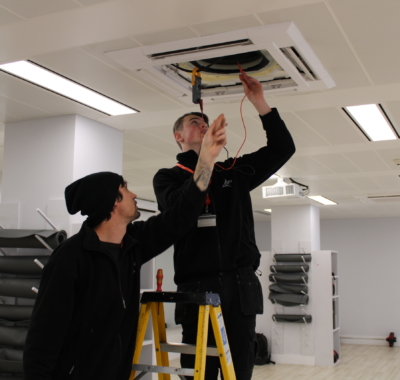 Danny Coxall, a 17-year-old plumbing student, attended Artic's STEM event and connected with Ben Ward, one of Artic's Contract Managers. Inspired by the possibilities in Air Conditioning (AC) engineering, Danny joined Artic as an AC apprentice in January. Since then, he has experienced unwavering support and guidance from the company. Danny's enthusiasm for Artic was so strong that he left his plumbing course to pursue an AC apprenticeship. Onsite training and shadowing experienced engineers have deepened his understanding of the industry. Currently stationed at Kings College London, Danny is exposed to various environments and is motivated by the career progression opportunities Artic offers. His goal is to become a contract manager, and he recognises that hard work and dedication are key to advancing within the company.
Kieran Rains' Journey:

Kieran Rains, a 16-year-old electrical student, was already enrolled in an electrical course at North Kent College when he attended Artic's STEM event. Engaging with James Frost, Artic's Head of Service and Maintenance, Kieran discovered the exciting prospects available in the electrical field. Inspired by the hands-on apprenticeship experience, he left his college placement to join Artic. Kieran is eagerly awaiting enrolment in the Level 2&3 Gold card test and inspect course later this year. Currently based at Kings College London, Denmark Hill, Kieran commutes daily and supports various aspects of the building services contract, expanding his skills beyond electrical work. His team describes him as a motivated learner, and his exposure to diverse scenarios, such as laboratories and research areas, at Kings College London has been invaluable. Kieran encourages future apprentices to embrace their roles fully, ask questions, and seek opportunities beyond their comfort zones.
Celebrating Artic's Apprenticeship Scheme:
Danny and Kieran's journeys exemplify Artic Building Services' dedication to empowering young talent in the building services industry. The company's apprenticeship scheme provides a nurturing environment for apprentices to develop their skills and pursue rewarding careers. Creating the next engineering talent pool on a yearly basis, for this industry, is one of the main objectives for Artic. Through hands-on experiences, dedicated "buddy" deployment and exposure to diverse scenarios, Artic builds the confidence and capabilities of its apprentices. The company takes great pride in having Danny and Kieran as part of the team and remains committed to supporting their growth and development in the field of building services.
Share This Story!
If you're looking to partner with Artic Building, then please complete the Working With Artic form here.
Do you have an upcoming project or tender? Then please complete the form below.