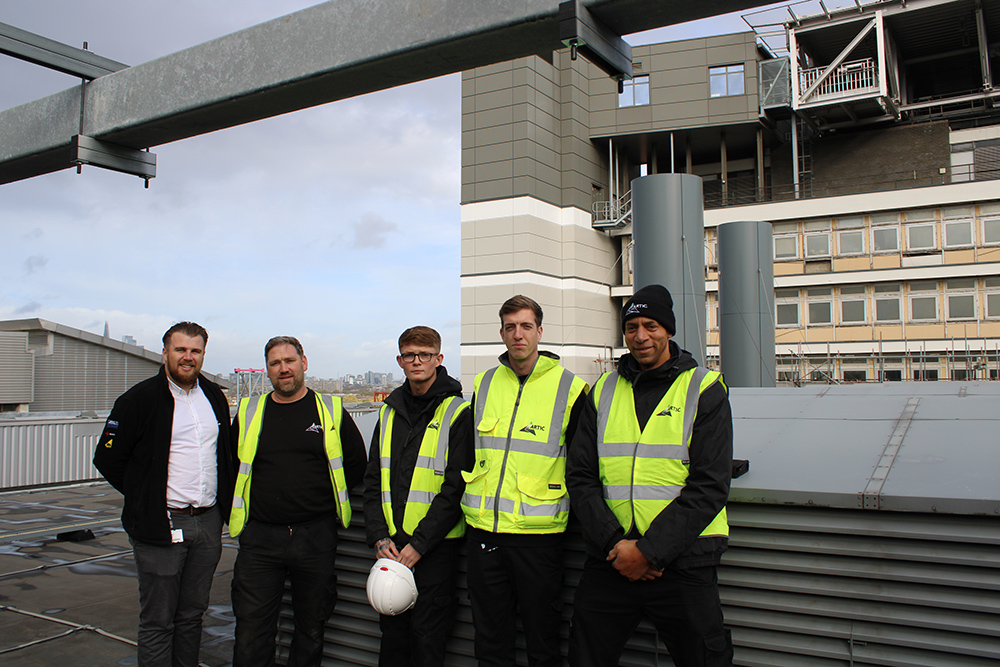 Artic is proud of our partnership with King's College Hospital Denmark Hill (KCH) since 1998 and it has only grown stronger over time. Today, we are the hospital's primary NHS contract in London, responsible for providing both planned and reactive maintenance services to approximately 6,000 assets.  As a partnered supplier to King's, we deliver HVAC and compliance services to the estate covering over 500,000 sqm.
History of Partnership
Artic has been a contracted partner to the trust since our inception in 1998. The Artic board of directors, all of whom were time served engineers, had provided services to the trust over many years. Our team's extensive knowledge of the site's cascade of critical areas and the personalities involved paved the way for the longest contracted relationship in our company history.

Tender Process
In 2019, King's College Hospital NHS Foundation Trust opted to combine all its various HVAC contracts into one, through a competitive tender process involving all its vendor partners. After a thorough review of each bid, Artic was selected as the preferred contractor. Each member of the team was specifically selected based on their experience in the NHS, their high-level skill set and their commitment to Artic. We started with a full-time residential team of six people on site, including a Contracts Manager, administration, two PPM engineers, two specialised reactive works engineers, and one junior engineer.
Day-to-Day Operations
The Artic team at KCH goes above and beyond to keep the hospital's assets running at optimal efficiency and compliant with legislation. Our team's exceptional knowledge of KCH and where systems are located helps them to quickly respond to faults around the hospital. Each day, the team reports to the KCH Estates team to provide a simple wrap-up on the previous day's events and any upcoming works that may affect hospital business as usual. The team's rigorous planning of maintenance tasks and responsive ad-hoc activities of HVAC plant keeps the contract within budget and exceeds all KPI thresholds, indicating excellent service provision following the agreed SLA.
Working at a hospital demands a high level of discretion from the Artic team, who must carry out maintenance duties without interfering with the hospital's everyday activities. The team respects the privacy of the patients and works invisibly on-site to ensure that patient comfort and privacy are not jeopardised. Health and safety compliance, as well as infection control, are critical issues at the hospital that must be regularly addressed by the team. Compliance-related issues are prioritized, and the team adheres to best practices and never does anything that would jeopardize hospital compliance.
Our team has developed personal relationships with key stakeholders at KCH, ensuring that issues are reported directly to us before being reported to the hospital's in-house helpdesk. This direct communication allows us to quickly plan and react to often critical issues, with an understanding that system failures can have a significant impact on patients. We work closely with the hospital to instil confidence in our team and ensure the highest level of service delivery.
Despite the demands of our contract, which requires every team member on site to adhere to allotted times for planned works (both PPM and Reactive), every team member goes above and beyond to attend to any issue highlighted to them during their working day. This often results in our team members having to work later to complete daily planned works, but no complaints are ever received as their personal relationships within KCH have created a sense of personal ownership, with each team member feeling happy to oblige to keep the staff they work for satisfied.
One recent example of our team's dedication and flexibility is when KCH's estates decided to change their operational times, adding two hours to their normal working day. Our engineering team on-site opted to change their working hours and develop a split shift pattern to accommodate the clients' change of times, regardless of their contracted hours. This example shows that our site team feels empowered in their positions within KCH and is willing to go the extra mile to ensure the hospital's needs are met.
Our team's commitment to service delivery extends beyond their contracted hours. They are always ready to react to emergencies on site, whether it's a Sunday, Bank Holiday or even Christmas Day when the hospital's chiller for their scanner went down. Our team worked through the night to ensure that downtime was at an absolute minimum, often sacrificing important personal events to keep the hospital running smoothly. We are incredibly proud of our team's commitment to their work, and their dedication to KCH has been exemplary.
Additional COVID Support
From the early outset of the recent COVID-19 pandemic, our team proudly and willingly stepped up and provided additional resources to support the trust. Artic made working in hospitals and 'high risk' COVID environments optional for all employees. Despite this, not one of the King's team elected to be removed from site. Each of the team offered to work enhanced shifts, and Artic drew on additional engineer resources from within the company to ensure we could support wherever needed and the enhanced operational hours to accommodate the huge influx of patients. This enabled us to allow the hospital to continue to run at optimal efficiency and be ready to handle the challenges of the pandemic.
Sustainability
At Artic, we pride ourselves on our commitment to sustainability and innovation in all aspects of our work. As a company, we recognise the importance of going above and beyond to maintain strong, long-lasting partnerships with our clients. Our approach to our partnership with King's College Hospital (KCH) is a testament to this ethos.
From day-to-day operations to emergency response, we are dedicated to providing KCH with the most energy-efficient solutions available. We are constantly looking for ways to improve energy efficiency and regularly suggest new technologies to reduce the hospital's carbon footprint. Our team is trained in sustainable practices and encouraged to contribute ideas to help reduce KCH's carbon footprint. Our commitment to waste reduction is unwavering, and we are always seeking new ways to improve our sustainability practices.
We are constantly looking for ways to improve energy efficiency and regularly suggest new technologies to reduce the hospital's carbon footprint. One example of this is our work on the hospital's MRI scanner, which requires a lot of energy to run. We suggested and implemented a more efficient chiller, which resulted in a significant reduction in energy consumption and cost savings for the hospital.
Our commitment to sustainability extends beyond energy efficiency. We are also committed to reducing waste and promoting circular economy principles. We work with the hospital to repurpose and recycle assets wherever possible and ensure that any waste is disposed of responsibly.
Collaboration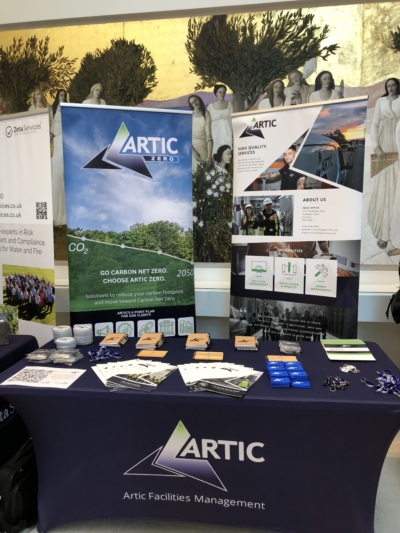 Our partnership with KCH is based on a foundation of collaboration. We work closely with the hospital's Estates team to ensure that all work is completed in a timely and efficient manner, with minimal disruption to patients and staff. Our team is always available to provide support and advice, and we are committed to working together to identify areas for improvement and implement solutions that benefit the hospital.
Over the past 12 months we have expanded our support of the trust to include further compliance elements into our remit. Fire damper and fire door maintenance across the trust's huge estate.  Artic have also contracted with the trust carbon consultants, Lexica to ensure our own carbon management goals and Road Map to Net Zero, mirror those of the trust as part of a truly collaborative approach.
As part of our relationship with KCH, we sponsor their official charity and support their efforts across their entire supplier base.  Artic host the annual 'King's Supplier Event'.  This event gathers all of the Trust supply chain to a review of services, plans and aims of the trust and ensure all suppliers are aware of the direction/goals/requirements of the trust supply partners. We believe that our support to the trust and KCH's charitable efforts is an important aspect of our commitment to sustainability, and we are proud to be part of their supply chain.
In conclusion, Artic's dedication to sustainability and innovation, combined with our team's commitment to service delivery, makes us an ideal partner for KCH. We are proud of our long-standing partnership with KCH and look forward to continuing to provide innovative, sustainable solutions that help reduce the hospital's carbon footprint while maintaining the highest level of service delivery.
Share This Story!
If you're looking to partner with Artic Building, then please complete the Working With Artic form here.
Do you have an upcoming project or tender? Then please complete the form below.